Berliner Philharmoniker - Waldbuhne (2017) Blu-Ray 1080i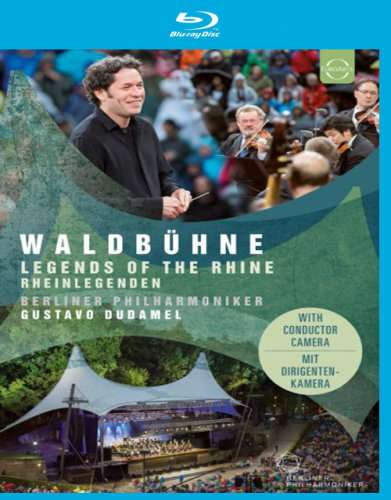 Screenshots: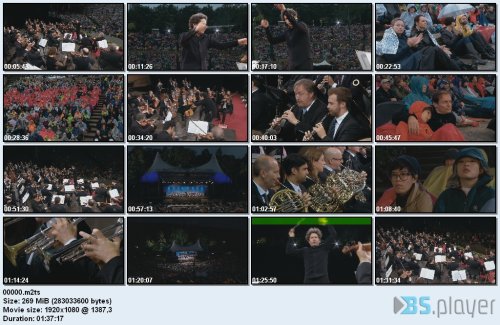 01. Opening
Robert Schumann:
Symphony No. 3 in E-flat Major
02. Lebhaft
03. Scherzo. Sehr massig
04. Nicht schnell
05. Felerlich
06. Lebhaft
Richard Wagner:
Der Ring Des Nibelungen
07. Einzug der Gotter in Walhall (from Das Rheingold)
08. Siegfrieds Rheinfahrt (from Gotterdammerung)
09. Funeral March (from Gotterdammerung)
10. Waldweben (from Siegfried)
11. Walkurenritt from "Die Walkure"( Concert Versions)
Richard Wagner:
12. Isoldes Liebestod (from Tristan und Isolde)
Richard Wagner:
13. Prelude 3. Act (from Lohengrin)
Paul Lincke
14. Berliner Luft
Description: For their annual season end concert, the Berliner Philharmoniker take the audience on a dreamy, magically journey through the river Rhine with Schumann's beloved 3rd Symphony Rhenish. Pieces from Wagner's Der Ring des Nibelungen under the baton of dynamic conductor Gustavo Dudamel complete this evening.
Source:

Genre: Classical
Quality: Blu-Ray | 1080i
Format: M2TS | 29.9Mbps
Length: 01:37:26 | 20.5Gb
Video 1: H.264 | 1920x1080i | 16:9 | 29.970fps
Video 2: H.264 | 720x480i | 16:9 | 29.970fps
Audio 1: LPCM | 2304kbps | 48kHz | 2 channels: L R
Audio 2: DTS-HD MA | 3577kbps | 48kHz | 6 channels: Front: L C R, Surround: L R
Language: English


pass: galexandersHD
Attention: Files are subject to expiration and can be automatically deleted if their not downloaded 30 days after the last download.